The Nash Family Foundation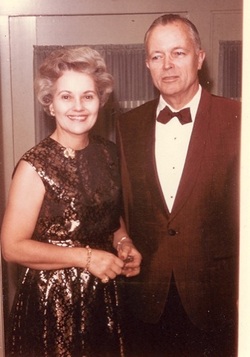 Ruth and Jack Nash
The Nash family's connection to Manitowoc began in the latter part of the 19th century, when Lyman Junius Nash moved to Manitowoc from southern Wisconsin, where his father owned a farm. After working as a schoolteacher, he studied law and became a lawyer, founding a law firm and beginning a family tradition that would last three generations. In 1892 Lyman constructed a house at 1316 Michigan Avenue, and it is still there today, although it is no longer in the family.

Lyman's son Archie was also a prominent Manitowoc lawyer; he joined the family law firm and belonged to the First Presbyterian Church, along with his wife Molly and his two children, John and Eleanor. John Nash (b. 1908), called "Jack," graduated from Princeton University in 1931, he graduated from Harvard Law School three years later, then joined the family firm. In 1951 he married Ruth. Ruth Nash had two children from a previous marriage, David and Anne; Ruth and Jack soon had two more children: Barbara and James.

Jack and Ruth Nash were active in many charitable activities and generously volunteered their time for the good of the community. Jack was active in organizing the University of Wisconsin Manitowoc Extension, and served on the boards of the Rahr Museum and Memorial Hospital. Ruth served as trustee of Lakeland College, an institution attended for a number of years by our brother David – since deceased.
 At the First Presbyterian Church Jack served as an elder, and Ruth was a deacon who was involved for many years in a prayer group and spiritual healing program.

The Nash Family Foundation was created, in part, to continue Jack and Ruth's tradition of public service to the community. Although the current board members of the Foundation no longer live in Manitowoc, they grew up there and retain a deep emotional connection to the community. For this reason, and also to honor the spirit of Ruth and Jack's legacy, the Nash Family Foundation devoted the first five years of its gifts to two local institutions that were especially important to the life of our family.

Specifically, the Foundation endowed a scholarship to be awarded to students from Manitowoc County who wish to attend Lakeland College. In
addition, the Foundation funded a program at the First Presbyterian Church designed to generate discussion of timely topics at the intersection of
religious faith and contemporary culture.

With the grants awarded in September of 2012, the beginning of fiscal year 2013, the Foundation fulfilled its original five-year commitment to the Manitowoc community. The Nash Family Foundation remains committed to Manitowoc, and now also welcomes grant applications from the areas where the board members live: Cleveland, Ohio, Boston Massachusetts, and the Washington, DC area. Grants are awarded in September of each year and the deadline for applications is June 1.
---
Board Members

Anne Massey is retired from teaching and lives in Bay Village, Ohio on Lake Erie. She is active in her garden club, church, and ushering at Playhouse Square in downtown Cleveland, a composite of 7 different theaters. Anne divides her time among three homes: Bay Village, Johnson's Island on Sandusky Bay and Naples, Florida. She has 3 adult children and 4 grandchildren.

Dr. Barbara Nash graduated from Vassar College and earned a doctorate in psychology from Western Michigan University. She is a licensed clinical psychologist and a psychology professor at Bentley University in Waltham, Massachusetts. She has completed specialized training in the treatment of psychological trauma. Dr. Nash lives in Concord, Massachusetts with her husband, Patrick Flynn. She has two daughters, Lindsay and Whitney. She is an avid reader, loves to travel, and runs five miles a day.

Dr. James Nash received his Ph.D. in Moral Theology from the Catholic University of America in 1990 and taught in the Religious Studies Department of the same institution until 1994. He subsequently pursued a career in journalism, working as the Washington Editor for the magazine EHS Today, a monthly publication and website devoted to occupational health and safety. Dr. Nash continued his career in occupational health and safety as a consultant and communications director with ORC Worldwide and Mercer, Inc. He retired from Mercer in 2011. He continues to live in Washington, DC and is active in his parish, the Cathedral of St. Matthew. He devotes much of his time to serving and advocating for the homeless members of the Washington, DC community. He is a devoted reader and loves to bicycle for exercise, recreation and transportation.